Diell – Micro Detectors
M.D. Micro Detectors is pleased to inform the market introduction of the new Q50 series Cubic Photoelectric Sensor, size 50 x 50 mm.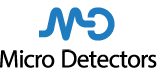 The new Q50 series  offers a wide range of models: 
– direct diffuse with working distance up to 2 m;            
– background suppression up to 500 mm;
– polarized retro-reflective up to 6 m;                                  
 – through-beam (emitter and receiver) with sensing range up to 20 m.
Different versions of this sensor  are available: VCC models with NPN/PNP selectable outputs and additional NO+NC outputs.
Multi-voltage VCC/VAC models with relay output and NO/NC contacts are also available.